By Rush to Le Mans 2000
Words and pictures by Dean Heatley
A drive to the 24hr race in a car I built always seemed like a good idea and it turned out to be exactly that.
E87 RSC had done about 2500 miles so I was quietly confident we'd be OK, but after all the knocking I got from the uninitiated folk who live roundabout I was beginning to have a few doubts.
They were completely unfounded however as after 1,660 miles the Rush hadn't missed a beat. The only problem being the broken door hinges on the passenger side, one of which was cracked before we left. It couldn't have happened at a worse time either coz we'd just left Dax for the return trip to Scotland when it poured down at Cambridge. I don't have a top for it.
As it looked like it was in to stay we stopped to repair the door and don the waterproofs only to find ourselves stopping again shortly after to take them all off in the bright sunshine.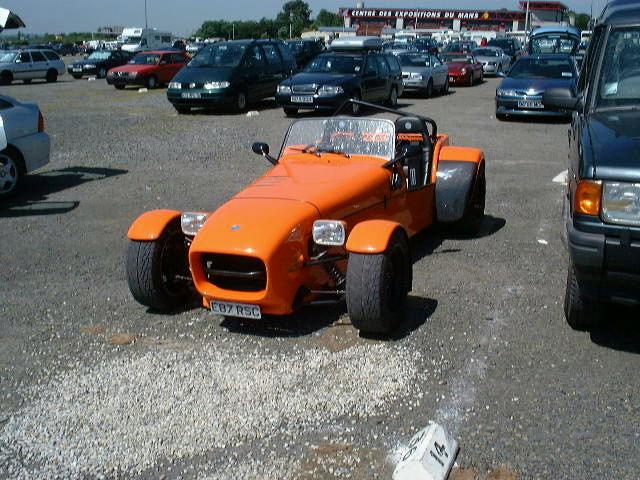 Parked up at the circuit after 750 miles
We'd become used to the sunny stuff. As soon as we hit the tarmac off the Shuttle at Calais the sun beat us to bits. There's a lot to be said for driving an open car in sunny weather but after 1000-odd miles of it a bit of shade is a welcome sight! Especially when you can't turn the heater off and the engine's heat burns through the footwell panels like a blowtorch!
After the short bit of motorway and dual carriageways we were onto the N138 down to Le Mans. It's a well-known fact there can be a few loony toons played along here but for our stretch most were well behaved. Only when the 275 GTB/4 dashed past us did we give in to sensibility and take up the chase. Now I like the sound my Rush makes with the Dax exhaust, twin 40's and 2 litre pinto flying at 5000, but it's nothing to the music coming from the four pipes out of this particular Ferrari. And his sound effects are even better when the throttle closes off and we slow with popping, snarling exhausts letting out just a whiff of smoke. I could take miles of this. As he shifted down and gunned the Red car to make a swift pass on the other traffic, so we'd do the same and all the time he must've been thinking what the bloody hell is that little orange thing behind me! He needn't have worried even with his passenger hanging out of the window to check for overtaking opportunites there was no way I intended to tangle with the superbikes that were closing in on us. I moved in to let them pass thinking he might do the same but he was having none of it. The Ferrari was going to take on the bikes no matter what!
The next time we saw the Red car was on Saturday morning during the historic motor parade round the famous Sarthe circuit. And in true "275" style he was giving it loads!
The rest of our trip down wasn't quite as exciting but the sun stayed out and the beer was cold at the hotel.
We watched as much of a 24-hour race that can be watched without going daft, until well into the small hours with cars' brake discs glowing we called it a day. Having basked in the 30-degree sunshine all day long and driven to the track doorless, we soon discovered what a stupid idea it was driving back to our hotel at 3 in the morning in T-shirts and shorts! It was a long way too. I got out feeling decidedly frozen, still the beauty of a hotel booking was about to become apparent as showers, warm beds, lie-ins and proper breakfasts awaited. Bugger all that bloody camping lark! And to top it all we could catch up on the race with Eurosport over breakfast, how very civilised.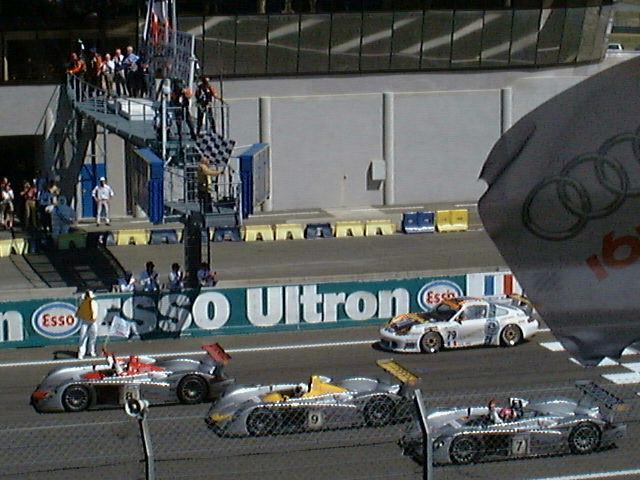 Audis took a convincing 1-2-3
The Audi 1-2-3 was a foregone conclusion I suppose but it didn't detract from the atmosphere and certainly not from the last lap dramas of bonnets flying up, suspensions collapsing and the odd spin here and there. The Yank effort paid off as the Vipers came home to win their class, beating the Corvettes, as we all knew they would. Not forgetting the smaller teams whose immaculate Porsches thundered round for the thrill of winning their own personal races.
And then it was all over. 24 hours of it. Pit lane locked up, cars wilting in the parc ferme. The bars closed, tents packed away and before 5pm hundreds of people had all buggered off. Gone! Although there were many who didn't even know what day it was let alone that the race had finished. Face down in the dirt, what a lasting memory!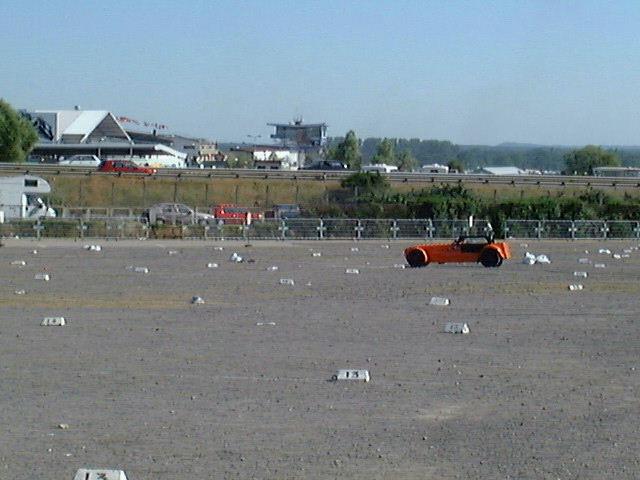 Last to leave
And there it was, the little orange Rush left in reserved parking rouge all on its Jack-Jones. But the sun was still shining so it was off to Arnage for a post race cold beer in a proper glass. And as luck would have it the Canadian GP was on and the bar full of Brits and Germans.
After the last night of any holiday I usually just want to get home, but this was different coz I had the car to drive. And guess what? The sun was still shining!!
We had an overnight stop in London, my Mum does a cracking B&B, and then it was a quick call into Dax before charging up the road to Scoltand. They were pleased to see us and I think a little impressed that the Tangerine Rush had done so well. I know I was.
All in all we filled up 16 times, more for regular breaks than trying to test the tank's range. Besides I've run out of gas twice in it already and pushing it is a real sod. It returned an overall 24mpg and used just under 70 gallons of premium-unleaded crap to cover 1,660 miles all with a smile on my face. The engine put together by JEM Engines, Falkirk burnt no oil. Barring the two front-on flashes by cameras on the A68 north of Jedburgh we escaped all the Froggy traps. The only thing to break was the top door hinge on the passenger side, taking the bottom one with it! Being a plastic car people's fears about it melting were completely unfounded. After a serious thrashing and enormous heat the exhaust rattles a wee bit, but Gary has explained how we sort that out.
Throughout the entire trip we never once got backache or felt uncomfortable, testimony to Dax's high back leather seats. We chased Ferraris, BMW's, and the odd Westfield and held off a Boxster into Calais. At Le Mans the little Dax rubbed shoulders with the very best sharing the secure parking at the hotel with nothing less than a D-type, an AC Ace, a Testarossa, an Elise and a Lotus Carlton. And still people were asking what kind of car it was. It just goes to prove that driving a Dax Rush from Falkirk to Le Mans and back was not such a silly idea after all.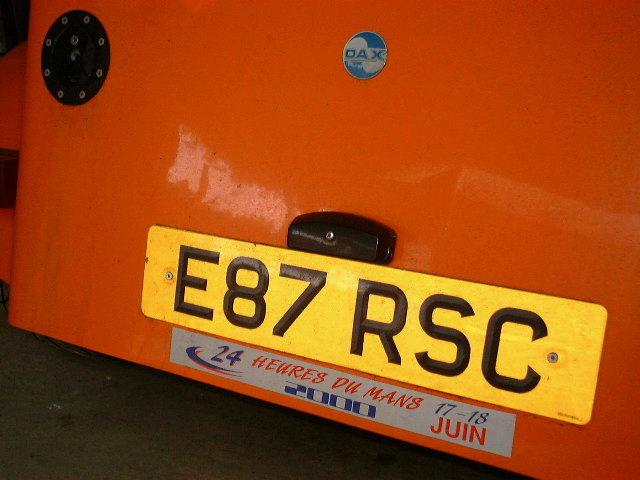 Dirty and tired bit we did it!
I don't know if we'll be going back next year, there might be somewhere else to go instead but to finish we'd like to say sorry to all the relatives of the thousands of flies and bugs we wiped out during the trip, it might be only a small car but we collected quite a bit of wildlife!