By Rush to Le Mans 2001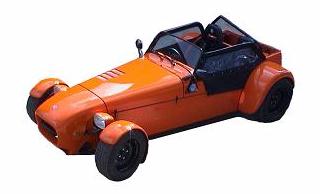 Words by Dean Heatley
Question: What happens when you decide to dash to Le Mans in a two litre Rush and a Lotus Elise where you have the odd tussle with Chimaeras and Griffs, it chucks it down with rain all weekend and the Bentley Boys come in third?
Answer: You consume copious amounts of alcoholic beverages to stay as wet on the inside as it is outside, almost get thrown out of the grandstand enclosure and then end up involved in a massive post-race party on the last night.
What a weekend!
The drive down from Bonny Scotland was pretty uneventful except for having to listen to the other half singing with the Walkman. Normally I like he singing for she has a great voice but no amount of wind buffeting could kill off Dolly Parton!
After a brief overnight at my Mum and Dad's place in Kent we picked up our fourth bod on route to the ferry. Things brightened up as Tangerine and the Lemon Elise dispensed ton-up with the motorway stretch from Calais despite almost ending up in Belgium.
And so once more we found ourselves batting down the N138 track-bound. My overtaker from last year was in the Elise, he just couldn't bear not to be driving this time! This year would be a test and I only slipped up once by wanting to have my own wee peek at the oncoming. Just my luck to have a 40-ton Scania bearing down on us when I moved over for a look! I was firmly put in my place and told only to go, "When I bloody say so, right!"
Take that as only going when you say so then, Darling.
Ricky's Elise was always bang-on in the mirrors but we split for the TVR tussles. Nobody sees this as a race or any kind of point to prove, after all getting there in one piece is the name of the game. But it's great fun to-ing and fro-ing as the cars dart and dive, weave and brake looking for that overtaking slot even if you lose it next time. It has to be said that despite our two cars' fag packet mass and elastic acceleration nothing compares to the sheer brute force of 300 horse V8's grunting past at full chat. You can almost see the strips of tarmac being torn up!
We pushed on leap-frogging trucks and slower moving cars, passing and being passed by the snarling Blackpool beasts and by my reckoning it's about 300 miles to the track from Calais others say 250, either way a stop or two is in order but we missed the decent cafés stopping just for gas. We still had to find a place on the campsite.
Good old Page and Moy had us booked into the Houx Annexe and although the facilities are basic they're clean and working. But it's the people round the place who make it and thanks to Jesus and his Triumph-inspired, Stella-powered mates we were saved from a watery ending.
"Don't put yer tents there mate, if it rains you'll be in three inches of
water"
"Erm, is it gonna rain then?"
"Probably, come and stick 'em over by us, we'll move the cars for yer"
By Saturday afternoon there was about three inches of water exactly where
our tents would have been. Thanks Guys!
And so the refreshments were broken out, Tangerine and Lemon were covered up and Jesus's mates' superbly modded GT6 was tweaked, warmed up and thrashed up and down the access road. Aah the delights of camping at Le Mans.
It's always a downer when it rains at these kinds of events but it just makes people more determined not to have their fun spoilt! We crowded into an unmanned grandstand enclosure for the start of the race and it didn't seem like a problem at the time. Stirling and the boys went out in the old-timers, previous winners and despite the showers, the Jags and Fords put on a good show with Stirling bringing home the C-type for the top step of the podium. Out came the 24 hour entrants and by now there was a little official running round the enclosure, panicking.
The man from l'Automobile Club de l'Ouest was having a bad day. Nobody had been on the gate when several hundred people made their way into prime viewing positions without climbing the grandstands. Now he was trying to throw us all out, waving his walkie-talkie and dishing out stern sacré bleus and plenty of mon Dieu. With 15 minutes until the start and more and more people (British fans) pouring through the still unmanned gate he had more chance of selling French Lamb Chops! It was a proper dressing down from an experienced French couple that sent him scurrying off waving his radio amid more Zut Alors!
After a rolling start, lights changed to green and several thousand horsepower spat and snarled its way round the Sarthe cicuit treading gently through the damp patches. Ten minutes later our man from the ACO was back with a van full of WWF candidates and we all decided fair's fair we'll move out!
After trekking round the various vantage points ducking into the odd beer tent to lessen the rain effects we split up and regrouped here and there. My Saturday stint finally came to an end after a night ride on the Spin-Ball at the fair. I probably don't need to extol the virtues of a machine that clamps you into a seat and fires you at great speed through every conceivable angle and trajectory, round and round until your head feels like it weighs a ton and your stomach like it's ever so slightly at the back of your throat. 'Spose the beers didn't help! Back at the campsite Jesus and co. had built a home-made bong from bits of Triumph.
The results are now in the history books but the beautifully built Bentley EXP Speed 8 cruised round and round that track as if it were on a Sunday test drive. Little noise, no fussy coarse, rasping exhaust, just sweet music lap after lap ticking off the miles. Ok it had a few problems during the night and a gearbox or two but hey, first time out , not bad! The formation finish was well performed and to see the BRG Speed 8 skulking just behind the all-conquering Audis sent a tingle down the spine for sure. Later in parc-ferme the solid British design sat there all speed spattered and silent still looking like it could go another 24 hours. We were all timely reminded of its Audi designed engine by no less than one of the German drivers on the podium! Bang goes his drive next year, rightly so, tut, tut etiquette man! But the impressive entrance onto the podium in full flying helmets and goggles was a lovely touch proving that someone in the team had a sense of humour even if the Germans were flexing their muscles. Roll on 2002; we'll be back.
So the celebrations began, the flag waving carried on and the Bentley team reps even came down with champagne for the most dedicated fan group who had stood and waved their Union Jack and Bentley Flags for 24 hours non-stop. Just like the cars. The answer to the inflatable sheep question remains a mystery. Several cars were turned back off the track hoping to get a blast round before all the roads were opened and even though loads of people had left the campsite the bar at Tertre Rouge was open and the party just went on and on, people got up and led songs, others joined in and everybody drank. Some even started drinking competitions and so it went on.
And on and on until.
See you next year.