Donington Kit Car Show
14th & 15th September 2002
It was Donington time again and this time there was a large turn-out of Rushes. I didn't manage to count them all but there were probably about 20 cars there. The Donington show is unique in that it also provides access to the track, which is widely regards as the best race circuit in the country for cars like these. I'm not sure I agree with this, as Cadwell Park is particularly nice, but it is a great track. There were lots of Rushes out on the circuit this time.
Unfortunately at least two of them suffered badly from oil surge (a consequence of the SD1 V8 sump design not really being intended for this sort of use. Worst afflicted was Ash Trowe who is now reporting that the winter is going to be spent getting a new engine, or re-building his existing one, following the damage it suffered.


There was a particular good line up of Rushes in the car park this year. This wasn't helped by the chaps on the gate telling some of is that the Rush area was full, but luckily we ignored him.

This is, apparently, Dave Ross's Pinto powered de Dion Rush. It looked immaculate, and had this rather nice rear end treatment which seems to soften the lines somehow.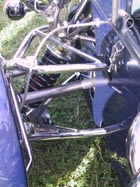 As usual, John Cellier turned up to put the rest of us to shame. His gorgeous V8 Quadra is now up for sale.

In amongst all this, there seemed to be some fraternisation with the proletariat taking place. This is to be discouraged, of course...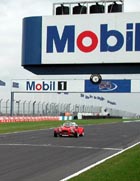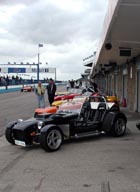 Inevitably, the track provided much of the action and enjoyment for the day.
Here's a lineup of Rushes in the pits. That seems to be Ash Trowe's car in front of Dean Heatley's Tangerine-mobile. Not sure who's behind them, but Bob Green's YOB would appear to be present again.
And on the right there's the self-same Yob blasting past the pits.


Here's Dean heading up towards the Esses.
Someone else, I'm not sure who, charging past the pits.


Here's your ever so 'umble webmaster going through the Esses and William Turner at the same point, being hunted down by an Ultima.

Here's Chris Brice and Duncan Hurst discussing their dare-devil approaches to the track, or perhaps discussing the weather.
Pictures by Stuart Mather, Richard Warren and someone I've forgotten...